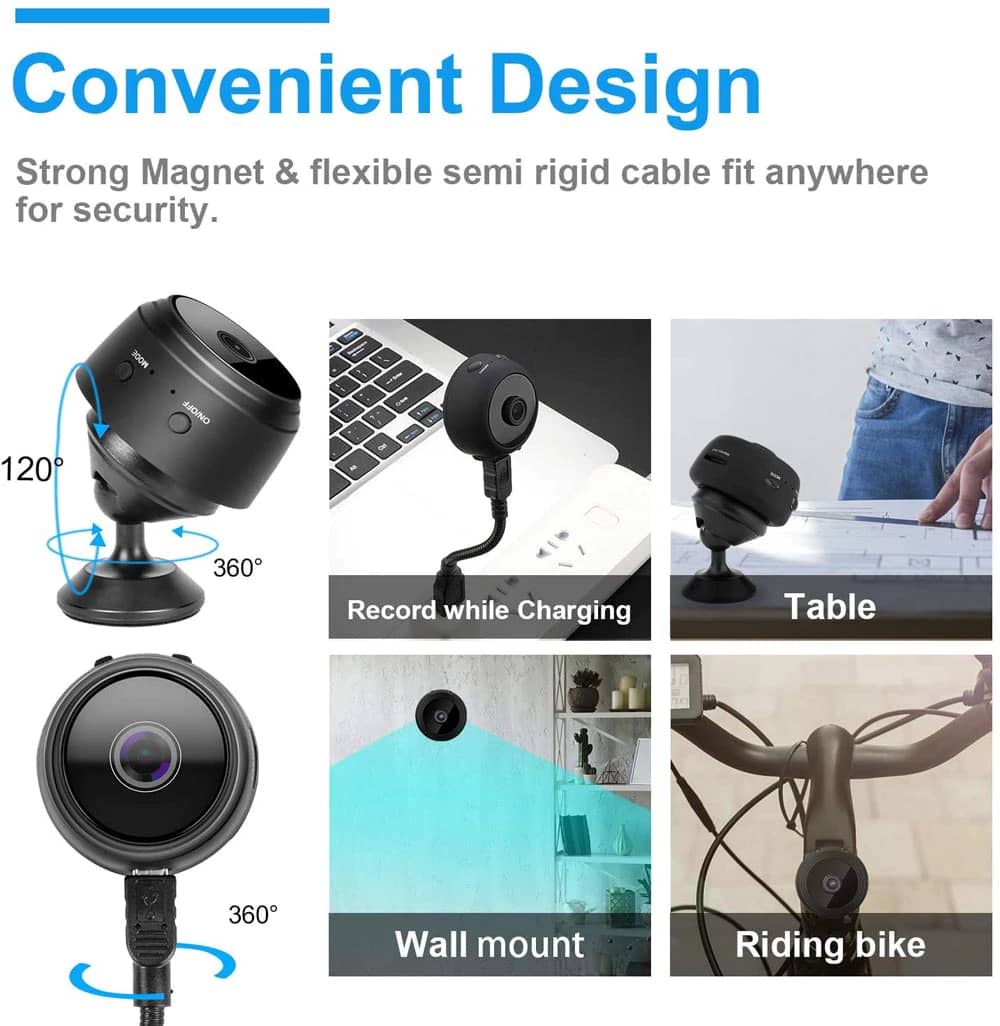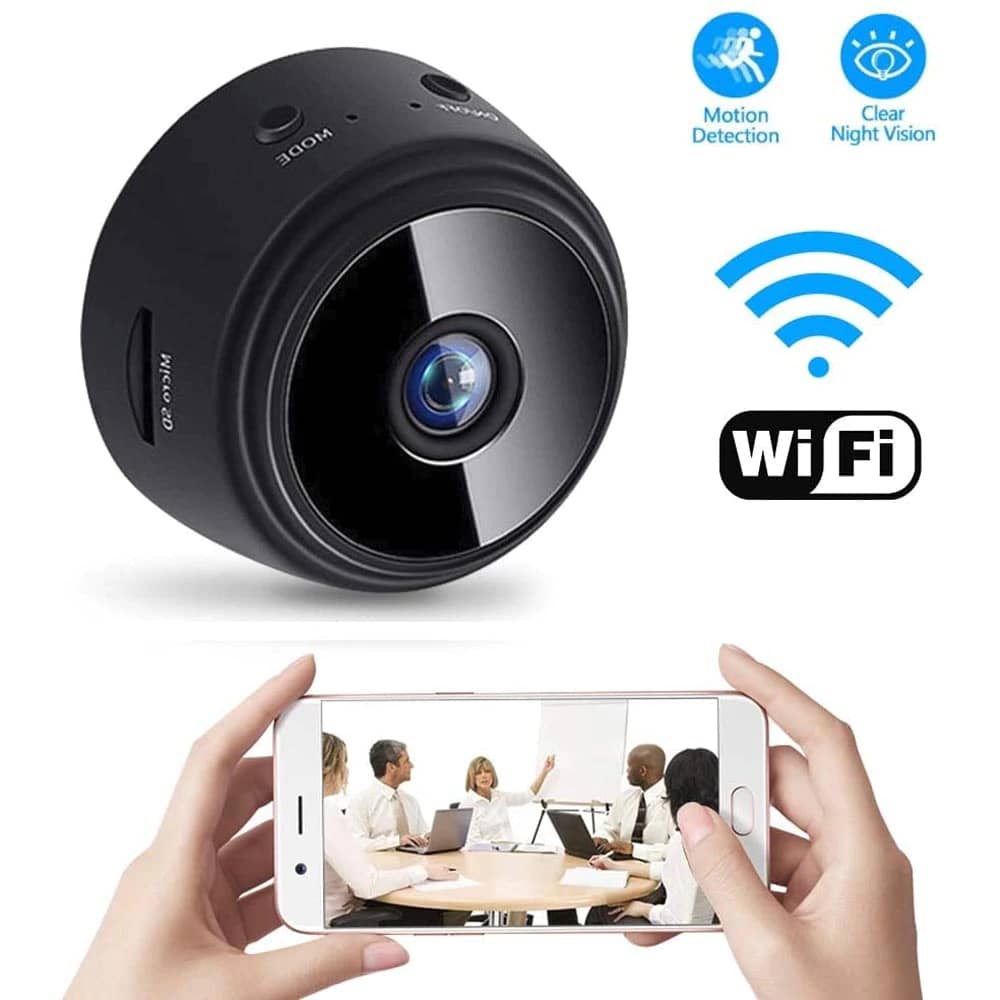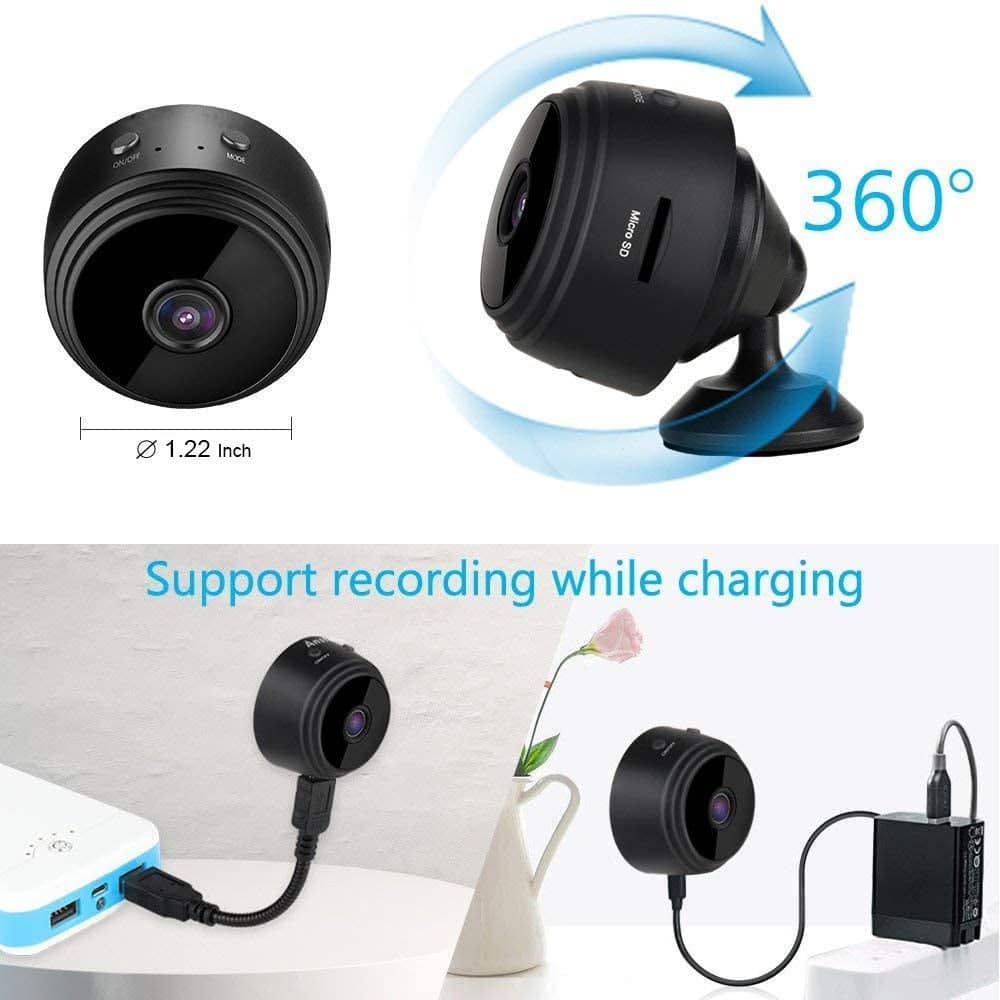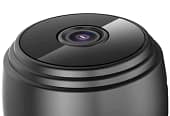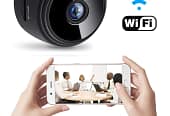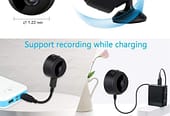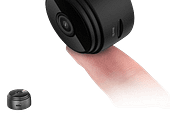 A9 Mini Wifi Camera Home Security
A9 Mini wifi Camera1080P HD IP Camera Home Security IR Night Magnetic Wireless Micro Video Surveillance Camera hide tf card
Function:
1. Wireless IP cameras allow you to see what is happening at home or in the office in real-time, even if you are on vacation or on a quick business trip. You can use IOS and Android smartphones to access remote views through applications.
2. Whether this wireless IP camera can work on WiFi (2.4GHz WiFi only). When it works without WiFi, please insert the micro SD card (without SD card) and turn it on. The camera will record a video file and save it to an SD card (no SD card).
This small camera bathroom has a built-in magnet that works well with any iron material and can be easily placed anywhere. This small camera is equipped with a rigid charging cable and base. When charging during recording, you can manually rotate the recording angle by 360 degrees.
How to use
1. Download the application (365cam) in the app store or Google play.
2. Press the "on / off" button for about 3 seconds to turn on the camera.
3. Find and connect the camera's WiFi hotspot in the phone's WLAN settings. Or, scan the camera QR code and connect your home 2.4GHz WiFi in the application device
4. Set up WiFi configuration.
5. Watch live video.
A9 Mini Wifi Camera Home Security. A9 Mini Wifi Camera Home Security. A9 Mini Wifi Camera Home Security
google.com, pub-6029583504907970, DIRECT, f08c47fec0942fa0
Overview
Category :

Computer Accessories
Features:
Feature:
1. 1080p HD real-time video
2. The camera can provide you with a 90 degree view of the room.
3. Rechargeable battery, charging during recording
4. App remote control, live video viewing
5. Watch video on multiple devices at the same time
6. Built in magnet, matching magnetic accessories, suitable for various occasions
7. Support micro SD TF Card (4g-128g) loop recording - (TF Card optional)
8. WiFi compatible, remote playback
Specifications:
Mobile application: 365cam or hdwifi campro
Mobile operating system: android/ios
Number of cameras viewed simultaneously by mobile app: 4/1 episodes
Real time video resolution: 1080p
Video saving resolution: 720p.
Video format: avi
Frames: 25 frames per second
Viewing angle: 90 degrees.
Battery: 300 ma.
Magnetic absorption: magnetic attraction.
Motion detection: no
Minimum illumination: 1Lux.
Continuous recording time: 50-60 minutes.
Power consumption: 380ma/3.7v.
Storage temperature: -20-80 ° C.
Operating temperature: -10-60 ℃.
Operating humidity: relative humidity 15-85%.
Memory card type: the maximum actual memory of the TF card is 128G.
Playback software: vlcplayer/smplayer.
Camera standard components include:
1*wifi camera
1* bracket
1* magnetic iron plate
1*USB cable
1*user manual in English